By Batya Rosner
It is the question that's long been asked by Jewish educators and outreach workers.
What happens "after"? When the student leaves the classroom, when the adolescent moves on into young adulthood and starts charting a path through the wider world − what remains of the lessons and activities encouraged by their mentors? Once the program ends, how actively do the participants in those programs stay engaged in Jewish life?
This is not a simple question to answer, but at the Orthodox Union, the department of Alumni  Connections is working hard to make sure that young Jews hold on to their passion for the Jewish community even after they leave  NCSY or return from a Birthright Israel trip.
The OU Alumni Connections department was launched in 2008 by "Rabbi Dave" Felsenthal, founding Alumni director and current director of OU NextGen, which is dedicated to making sure that meaningful Jewish experiences translate into more active involvement and long-term impact on participants' lives. The department was founded on a simple observation: "NCSY and Israel Free Spirit (the OU's Birthright Israel organizer) leave you wanting more," says Rabbi Felsenthal. "You feel like you've been part of a family and when you get that feeling, you don't ever want that relationship to end." The family he refers to isn't small. Between NextGen programming and sixty years of NCSY, the Orthodox Union boasts over 300,000 alumni.
Alumni Connections Director Rabbi Yehoshua Marchuck, himself an alum of Long Island NCSY and veteran Israel Free Spirit Birthright tour leader, sees his department as the logical extension of the intense effort the OU puts into its youth programs. "Look at the incredible amount of work, investment, time and love we put into NCSY and Israel Free Spirit!" says Rabbi Marchuck. "You take these young adults who have been inspired and put onto a Jewish track – but what happens next? For nearly sixty years, there wasn't a 'next.' If you became an NCSY advisor, fantastic; but if not, well, there was nothing following that. Now that's all changing. Our aim is to engage college-age people so they stay involved and active in the Jewish community; and we do that in lots of ways."
Rabbi Marchuck oversees a staff of energetic, creative young professionals, a majority of whom are alumni of NCSY and other OU programs. And they need all that youthful vigor because their task is enormous – they're striving to build a network of relationships between a huge number of students and the equally numerous Jewish opportunities on campuses across North America and in Israel.
Part of the important work this dedicated team does is the construction and maintenance of a database of demographics on campuses across the country. To help gather this vital information, an annual survey is sent out to current college students. In addition to collecting demographic information, it also keeps up with students' needs and interests, helping OU Alumni Connections focus its efforts on providing necessary Jewish opportunities where they're lacking. "Back in 2012, the survey showed us that a particular campus sorely needed Shabbat opportunities," says Hart Levine of the Shabbat initiative, Heart to Heart. "We went into action fast."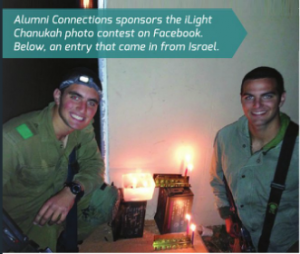 As an added bonus, students who respond to the survey can expect a gift in the mail when Jewish holidays roll around. More than 2,000 packages filled with holiday-related items are sent by Alumni Connections to college students for Chanukah and Purim. In addition to seasonal nosh and information about the holiday, these gifts contain Chanukah candles, dreidels, or Purim noisemakers.
"I love the Chanukah and Purim gifts," shared Shachar Avraham, a junior at Binghamton University in New York, who has launched a Junior NCSY chapter in Binghamton and has helped coordinate on-campus NCSY Alumni events with the help of the Alumni Connections department. "It's all a part of giving students the tools and encouragement to stay involved," says Rabbi Marchuck. To showcase this sense of shared Jewish experiences (and literally light up students' lives) Alumni Connections runs an "iLight" contest on social media. Students are encouraged to post photos of Chanukah menorah candle lightings, and those with the most "likes" on Facebook receive gift cards. "It's fast, it's fun and it brings us all together," says Rabbi Marchuck.
But staying in touch and providing ways for alumni to keep Judaism as part of their own lives is just the beginning. Through its strong network of relationships within the campus Jewish communities, the NextGen/Alumni Connections department is able to expand its offerings so that students can continue their Jewish journeys off campus. Partnering with Taglit-Birthright Israel, the department provides Israel Free Spirit, one of the most popular BirthrightIsrael journeys. More than that, partnering with non-profit Justifi, OU Alumni brings students on social action missions to Thailand, where participants learn more about Jewish values while experiencing another country's culture. With Germany Close Up programs, participants expe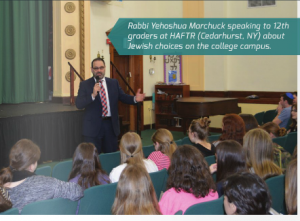 rience both Jewish history and modern Germany during a highly-subsidized ten-day program.
Unlike other collegiate trips, when any of those trips is over, the participants' relationship with the Jewish community is just beginning. Because many of the young adults who sign up for these programs don't necessarily have a strong Judaic background, their introduction to the world of Jewish life on these trips can lead to much greater awareness of themselves as Jews. The Alumni Connections team follows through with vigorous promotion of its Partners in Torah program. Through this program, thoughtful young people, inspired to find their place in Jewish life, are partnered with a knowledgeable mentor who works in the same field as the collegiate participant's interests. In the last six months, more than 150 Birthright Israel Free Spirit alumni have been connected with the Partners in Torah program and are learning on a weekly basis.
Invariably, by learning together Partners in Torah inspire each other. "I studied with a rabbi, and now that I moved back home I wanted to continue learning," says Jeffrey Laird, who delved into Pirkei Avot with his mentor over the phone. "Every week, I get to learn something; and then I spend a week trying to act on it. It keeps you always trying to improve yourself."
With many chavrutot, (learning partnerships) strong friendships are formed, and lifestyles change. Andrew Terkowitz started learning the parshat hashavua once a week after returning from an Israel Free Spirit trip. "When I asked my mentor how he remembered the story he was telling me, in such detail, he said he always takes notes," says Andrew. "From then on, I took notes on our discussions over the phone. I've gained more appreciation for the Torah from my learning."
"Our Partners in Torah program and individualized mentoring give every Jewish collegiate various ways to be involved and grow in Judaism," Rabbi Marchuck explains. "We run follow-up programs and initiatives each year and they all work together to fulfill this purpose. In short, we care about every Jewish student, and we're always there for them even after they've 'finished' the regular programming. It's all about staying connected."
To receive Alumni Connections email, contact Rabbi Marchuck at marchuck@ou.org, and to access its programs, visit www.ncsyalumni.org   
____________________
Batya Rosner is a staff writer at the Orthodox Union. Additional reporting by Ari Ziegler.
Read more articles from Reunion here.