For Liron Ozery, an alumna from Southern NCSY (2012), there was no question that she wanted to take action during Operation Protective Edge this summer. A strong believer in the state of Israel, Liron and two friends came up with a social media campaign to help bring awareness and support for Israel. "There were a lot of people in South Florida waiting to do something", Ozery said, "But no one took leadership. So a few of us got together and decided to start it." The expectations were low, as a Facebook group is not always guaranteed to go viral, but when 2,000 people RSVPed "yes" the morning after Liron created the group, it was clear that a spark had been lit in the South Florida Jewish community. "The original idea was to have a small gathering (at a house or park) and sing pro-Israel songs, just to bring the community together", recalls Liron. They ended up receiving messages from many well-known Jewish and pro-Israel organizations as well. Before she knew it, the Israeli American Consul, Friends of the IDF, Jewish Federation, Zionist Organization of America, among other organizations were on board.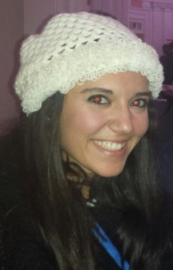 Ozery and her friends had no idea what to anticipate on the day of the event: 15? 50? 100? 200? How many people would come and show their support? She arrived at the Miami Dade intersection early that morning; hanging up flags, and spreading signs across the area.  Before Liron knew it, over 3,000 people had showed up! Even Chaim Shacham, the Consul General, came to speak to the group of supporters.  Looking back on the day, Liron says, "the turnout was unbelievable. We were on major news stations and in major newspapers. The unity that we saw that day was incredible." The Jewish community of South Florida has been greatly affected because of the work done by Liron. Her love of Israel and passion for the Jewish people have truly helped her to have a voice in a matter that is close to her heart.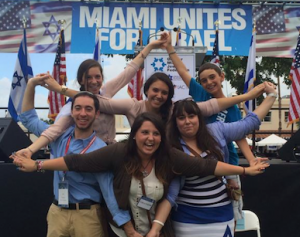 Growing up as an active participant in Southern NCSY, both as the Regional President and Israel Action Chair, Liron has always had a passion for Israel, and NCSY has helped her to channel this energy. Liron went on TJJ, not once, but twice! She says that NCSY introduced her to the concept of Jewish unity and how strong we are as a nation. TJJ showed her that a group of total strangers, from all over the world, can become a family in just a month's time. For Liron, NCSY is really all about unity. "Now I know people from all corners of the world who can pray for me and I can be in touch with them", she says.
Liron is currently a Junior at Yeshiva University where she is studying (Law?). Many of her connections and relationships in college stem from her amazing experiences in NCSY. "We do good things collaboratively. It's not just sitting around and doing nothing when we're together. They're quality friends and people", Liron highly notes of her friends. Ozery continues to be involved in the Jewish community at YU. She is on the board of the Israel Club and also is a member of the Yeshiva University Political Awareness Club (YUPAC) which works closely with AIPAC. It is inspirational that Ozery's enthusiasm for Israel and her on and off-campus activism all began with her involvement in NCSY and TJJ; a reminder to us all that NCSY has the ability to impact the lives of everyone involved. A few words of wisdom from Liron: "Keep in touch with the people you meet because those are the people that are going to do these kinds of things with you." Ozery notes, "You join NCSY because you want to be a part of something bigger." And over time, with the help of others along the way, she has certainly gone above and beyond to create something bigger herself.