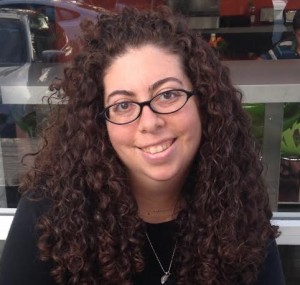 In 1999, while the rest of the world was stressing about the Y2K bug, Sarah Blitzstein found herself forever changed by NCSY's Israel Summer Experience. It was her first visit to Israel, as well as the first NCSY program she had been on. That trip was the beginning of a lifestyle of continuous giving of herself to others.
Today, Sarah is the Jewish Family Services director at HaMercaz, a program in LA which provides ongoing assistance, advocacy, support and general social services to individuals with disabilities of all ages.
Being involved in NCSY and going on ISE changed Sarah's perspective. She reflects that seeing all that NCSY does for the community really opened her eyes to how much she could give of herself and potentially do for the Jewish community. In her words, "NCSY instilled in me the desire to give back on a macro level."
Upon returning from Israel Summer Experience in 1999, Sarah became more heavily involved with West Coast NCSY (1998-2001), and became a member of the chapter board for Beverly Hills. After graduating from YULA high school, she went on to Baer Miriam in Israel for a gap year. Following her time in seminary, she attended Touro College in Manhattan, while simultaneously maintaining her connection with NCSY by serving as an advisor for NCSY's Southern Region. Sarah subsequently went on to obtain a dual Masters degree of Social Work and Arts in Jewish Communal Service.
What led her to endure years of grueling work and hardship in order to choose such an altruistic profession you ask? NCSY, of course!
NCSY inspired Sarah to give back-and give back she does. On a daily basis she devotes her time and energy towards providing support to individuals with special needs and their families. Her career choice is a self-evident manifestation of her passion for helping others. Sarah coordinates and supervises HaMercaz's community programs, aided by the leadership qualities and efficiency skills she developed in her 12th grade days on the chapter board for Beverly Hills NCSY, coordinating and planning Shabbatons.
"Working for people with special needs is non-denominational; it's something that crosses all boundaries and negates differences, uniting us for a common cause", Sarah says about her job. HaMercaz recently partnered with the OU program Yachad, introducing new programs at Camp Moshava Malibu. The satisfaction Sarah gets from not only giving to others, but also from helping the Jewish community, specifically, is something she would not give up for the world.
Sarah took a moment of inspiration and ran with it, letting it guide her life choices instead of letting it just slip away.
Sarah's experiences on ISE stick with her until today. When she goes to Israel, fond memories of her first trip there come flooding back: the palpable excitement of touring Israel for the first time, witnessing the rich history of the land, and all the friends she made. "My years in NCSY," she muses, "brought me much closer to people in high school that I didn't previously have much to do with. I became much more involved and became friends with people I might not have been friends with otherwise."
Sara's most poignant NCSY memory is, like so many of our own, of Ebbing at a regional Shabbaton. During the final moments of Havdalah, as everyone was jubilantly dancing around the dark room, illuminated only by the light of the candles, Sarah stopped for a moment and looked around. She remembers thinking at the time, that although time is moving on and everyone is going to go their separate ways, they will still remain connected by the bond of being a part of NCSY together.
Down the line Sarah hopes to still be helping to create and strengthen inclusive communities for people with disabilities. She hopes to one day raise a family and impart to them the important values that she learned from NCSY and communal involvement.
Three of Sarah's advisors from high school are among her closest friends now. She marvels at the fact that she never would have thought that one day she would be helping them with their kids and hosting shalosh seudos for them. The biggest lesson, she says, is, "You really never know where life will lead you."