If you mention the name, Amanda Esraeilian, to anyone involved with NCSY an instant smile appears on their face. Though she is so well known now in the NCSY world, Amanda explained that her entire NCSY experience began from her first NCSY shabbaton.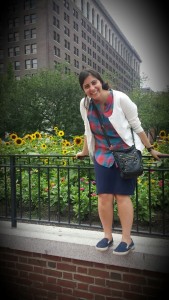 Amanda shared how transformative her first shabbaton was for her, "I was never was exposed to anything like this in my life, I walked out very different person than walked in. I saw people with so much depth and a pure care for people and the world. Everyone there was so real and sincere, the entire weekend was abnormal and amazing."
Havdalah on that weekend was the peak of the entire Shabbaton for Amanda. "I walked into the room and there was some weird band playing songs I didn't know, a huge a mosh pit of people and sweat everywhere! I had no idea what was going on but I went into the middle of the circle and started jumping and going crazy." Amanda had such an amazing time it caused her to want to find out more about Judaism, Torah and got heavily involved in everything NCSY.
It didn't take long for Amanda to become an NCSY super star, between her involvement with New york NCSY and NCSY summer programs. Not only did Amanda enjoy and gain so much from NCSY programming, but it was a great influence on her strong Jewish identity. "NCSY gave me a deep love for the Jewish people and a strong sense of self. It taught me what it truly means to fight for something you love," Amanda explained.
It was no shock that Amanda held a position in her student council every year in Stern College, includ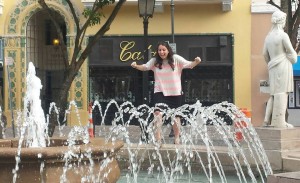 ing TAC President (Torah Activities Council) in her senior year. Amanda's one goal while holding this position was to give others the ability to walk out with positive outlook on Judaism and be there for every student.
Amanda worked as a Midwest NCSY advisor and attended NCSY summer programs as an advisor  throughout college. She is now the Advisor Coordinator for the Southwest Region. She is also currently taking part in a two year program called, Teach for America. Amanda teaches at a school for children from all backgrounds because she believes that no matter where they come from, what home life they have- every child deserves a good education. "Education can take one so far, the power of knowledge and ability to think is what makes one successful in the world," Amanda shared. For Amanda, she feels as though it is a privilege to be able to change the world in that way and she eventually wants to create her own school.
Amanda left us with advice that she truly lives by, "Never underestimate how much you can accomplish. If you believe in yourself and allow yourself to embark on the opportunities that came your way, you can accomplish so much more than you can imagine. Don't be afraid to make mistakes, the mistakes I made have helped me the most."