Elisha Mendl Mlotek OU-JLIC Alumnus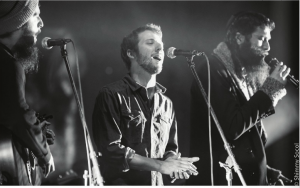 "We need to bring a passion for Judaism back into our lives," says OU-JLIC alumnus Elisha Mlotek, "even when you're living in the heart of an observant community. Perhaps we need it there even more!" As a recent graduate of Queens College (NY), Elisha notes that when your college is in the middle of a Jewish neighborhood – with, oh, about fifty kosher restaurants – the real challenge is to keep growing in your Judaism and carry on the legacy. "In these comfort zones it's easy to stop trying," he reflects. "You have to keep yourself alive and be on your spiritual toes. Pretty soon you'll be on your own, no longer part of your father's shul, and you'll need a community of your own. As the next generation, college is the time to enhance your own Jewish commitment and practice building a community."
And that's where OU-JLIC couple Rabbi Robby and Shoshana Charnoff come in. The Charnoffs are on campus to serve as a point of connection to Judaism during the students' long, hectic days. "Rabbi Charnoff is in the business of creating moments," says Elisha. "You have a little time between classes and you find Rabbi Charnoff at Hillel. So he teaches you a bit of Torah, you schmooze a little, and fifteen minutes later you're off to your next class. It sounds like nothing. But the sum total of those moments are infinitely greater than you can imagine. Suddenly you're thinking about Torah, and there's a big light shining. You hook on and it guides you."
Elisha confesses that he wasn't "super involved" in the official OU-JLIC events at Queens. He preferred impromptu learning, random moments of inspiration. And he discovered Rabbi Charnoff almost by accident. "On my first Shabbos at the college, a friend of mine took me to the Friday night minyan and Rabbi Charnoff spoke. To my surprise, he quoted the Ishbitzer Rebbe, and he conveyed his message so masterfully that I was deeply moved." In his gap year of study at Yeshivat Lev HaTorah in Israel, Elisha had encountered the teachings of the Ishbitzer and had been impressed by his Chassidic insights. "And here was Rabbi Charnoff," smiles Elisha, "among other classic sources, he was quoting a Chassidic master to this modern audience. I was motivated to hear more. I think that to be a progressive society, we need to have values and find new ways of thinking about Judaism."
Elisha was already on a spiritual path by then, but he did not expect to find the growth he was seeking outside of a yeshivah. Yet here it was, right on the QC campus, with Rabbi and Shoshana Charnoff as his guides. "Rabbi Charnoff is a great guy. I simply considered him my friend – and I still do, even after graduation. We stay in touch."
That sentiment goes in both directions. Rabbi Charnoff recalls, "Elisha came with a few friends to our Tu B'Shvat Seder one year on a Friday night. This was during winter break, when most students are away from the campus. He made it a point to come, and what a time we had! We talked and sang for over four hours."
The OU-JLIC couple runs "portals of entry events" of all sorts, as different venues will appeal to different kinds of people. Some of them are attended by hundreds of students. But the ultimate goal is to forge meaningful relationships with students as individuals, enriching their lives and their connection to Judaism.
A true friend to his students, Rabbi Charnoff is very proud of their accomplishments and Elisha is no exception. Elisha's interest in spirituality, music and Chassidut combined over two years ago when he formed a folk/world-soul band, Zusha, with his friends Shlomo Ari Gaisin and Zechariah Goldshmiedt. Involved in writing lyrics as well as the music, Elisha is the group's percussionist and also serves as a vocalist. The band went on tour in Israel, ultimately playing at the Safed Klezmer Festival, and has been playing to sell-out audiences in the New York area ever since. The Times of Israel described their music as "wordless melodies to soothe the soul," while the Huffington Post commented that "the raw emotion is palpable."
What is the attraction of this Chassidic/reggae/folk/jazz music to modern audiences? "We're more than a band," explains
Elisha. "The experience transcends music. In today's material culture, people are overwhelmed. The fact that Zusha exists and attracts crowds shows that there is a spiritual yearning. I see it everywhere. Zusha creates a space where you can shut out the noise, and connect. It creates spaces that are tangible."
And Elisha made it a point to bring Rabbi Charnoff into that space. "I was honored – and touched – when Elisha went out of his way to invite me to Zusha's first concert in New York," the rabbi recalls. "After they had been playing for a while, Elisha called upon me to stand up and share some Torah with the crowd. I was a bit surprised, but I thought of something quickly and spoke for a few minutes. The band had created a soft, magical mood, and the audience was very receptive."
Now an alumnus of Queens College, and of OU-JLIC, Elisha lives in Manhattan, works at Juniper Jones (a creative agency and production company) and the future is bright. Ever striving to grow in spirituality, always learning, he looks forward to a life that is genuine, aware, and profoundly connected to his rich Jewish heritage.
Read more articles from Reunion here.