Alyssa Wolff IFS Alumnus
One thing most baalot teshuvah agree upon is that they never wanted to be Orthodox, and Alyssa (Wolff) Goldwater was no exception. "I know it sounds terrible, but I thought all Orthodox people were kind of strange," she admits. "The image of Orthodox Jews – especially Orthodox women – is pretty bad. People think they are living in some past era and not in touch with our modern age."
Yet today, Alyssa proudly takes her place in the ranks of Orthodox women. Looking back, she realizes that the process that led her to her current lifestyle began on her trip with Israel Free Spirit: Taglit-Birthright Israel. How she came to be on that trip in the first place is a remarkable demonstration of hashgachah pratit (Divine Providence).
Alyssa attended Indiana University, where she took no particular interest in Jewish life on campus. But it "so happened" that she began babysitting for Rabbi Seth and Lisa Cook, the Aish HaTorah campus representatives. She was fond of the Cooks, and she became close to them. When Lisa discovered that Alyssa had never been to Israel, she was insistent: "You have to go, Alyssa, you just have to go!"
She connected Alyssa to the OU Israel Free Spirit program and urged her to sign up. Though she valued Lisa's friendship, Alyssa was not especially anxious to visit the Jewish state, and declared she would go only if some of her friends join her on this bizarre expedition. Her sole reason for going was to have a good time and do something a little different.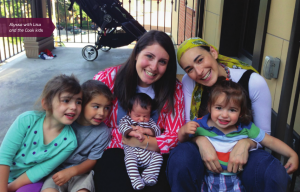 When two of her sorority sisters took Alyssa up on the idea, she made good on her promise to Lisa to go on the next available Birthright Israel trip. For ten days she and her friends trekked through Israel with the group, absorbing the sights and sounds of the country. And while all three sorority sisters had a great time, only Alyssa had a life-changing experience. She was surprised, "shocked, really" by the Orthodox madrichot (female leaders) who accompanied the group. "They were Orthodox and cool at the same time," she recalls.  "I never met anyone like that." What was most important to her was that they welcomed questions – any questions – about Judaism and their lifestyle.
"So looking at their long sleeves in that steamy summer climate in Israel, my first question was, 'Aren't you hot? Why do you have to wear that?'" She didn't really expect an intelligent answer to that question; she thought she'd hear something along the lines of "it's a tradition." But the answers the madrichot gave not only impressed her, but invited more questions. These young women not only understood why they did things and how the laws of Judaism make perfect sense, they exuded a love and enthusiasm for it as well.
This was all very confusing. Alyssa had assumed Orthodox women were suppressed and feel resentment − or at best, resignation − toward the lifestyle thrust upon them. "But they were living vibrant, joyous lives," Alyssa says.
She accepted their answers and, surprising even herself, she thought about them. It was then that she began to suspect that Orthodoxy was more satisfying than she had ever imagined. Then the group was taken to Safed. "I wasn't looking for spirituality," Alyssa attests, "but it's such a spiritual place, it was kind of unavoidable."
That IFS trip was during the summer between her sophomore and junior years at college. "I got a lot more out of it than I bargained for," she explains. By her senior year, she was completely observant and spending many Shabbatot with the Cook family.
"But there is something about Israel that kept drawing me back," she reflects. In fact, over the next two years, Alyssa went back to Israel six times! She sought out educational trips, attended the Jewel for Women learning program, and enrolled in EYAHT – Aish HaTorah College for Women. After graduating from Indiana U. she went to Jerusalem, enjoying a productive year at She'arim College of Jewish Studies for Women. Its impact on her was profound.
Alyssa credits her parents with making her transition to Orthodoxy a bit easier. "I've heard sad stories from other baalei teshuvah about parental opposition," she attests, "but once my folks realized that I wasn't just going through a phase, that I really want to live this way, they were very supportive." Alyssa wound up having her own set of kosher dishes and her parents enabled her to keep Shabbat at home. And they've been inspired by her example, as well. Her father began putting on tefillin and attending Torah study classes.
At She'arim, Alyssa roomed with Leah (Lubianker) Weinberg, who works for Israel Free Spirit. It was at Leah's suggestion that she applied for a position at the Orthodox Union when she returned from Israel. She was thrilled to work for Rabbi Yehoshua Marchuck in the Alumni Connections department for it gave her the opportunity to give back, to help strengthen others' ties with Torah Judaism.
A warm, caring person, Alyssa never lost contact with her old friends who remain non-observant. "Now I'm the one in the mentoring position," she says. "I have to be careful how I answer questions. An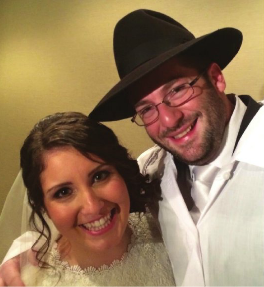 d I'm the first of my friends to get married; so there's a lot of responsibility that goes with that."
Alyssa left New York to marry Adam Goldwater in March of this year. Though he lived in Chicago and she lived in New York during their courtship, they managed to see each other quite a bit, jetting back and forth. "I accrued 9,000 miles on American Airlines in four months. That's not normal!" she laughs. They met through friends and "our rebbetzins," Lisa Cook and Suri Garfinkel (of JET in Chicago), took on the roles of shadchans.
After seven months at the OU headquarters in New York, Alyssa was off to Chicago to marry Adam. (She is now executive assistant to Rabbi Micah Greenland, international director of NCSY.) She sees an ironic twist of hashgachah pratit in that too. "I come from Louisville, Kentucky, and I went to summer camp for years with kids from Chicago. All my friends were from there, and at one point I wanted to move to Chicago. But my observant friends told me it was not a strong city for shidduch dating. 'Don't go,' they said, 'you'll never get married.' So look at how my life worked out! I didn't expect to be Orthodox, and I am. I didn't expect to live in Chicago, and here I am – married to the man of my dreams in a city I always loved."
Read more articles from Reunion here.